Description Yamaha AV RX-V6A
Demand more from your entertainment. Thanks to crystal clear images and immersive audio, with the V6A every moment will seem real.
--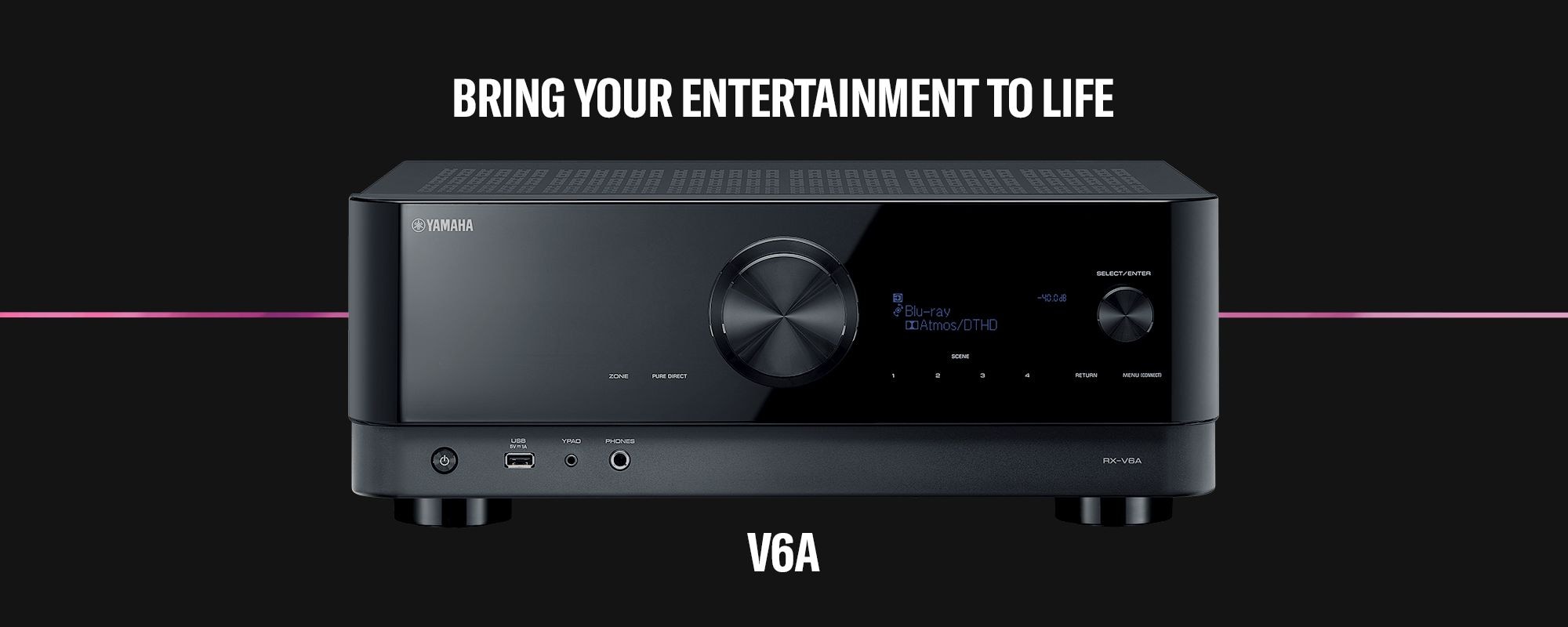 UNMATCHED SOUND
Dolby Atmos® with Height Virtualizer*Positioning sound at different points in the room, including the ceiling, puts you right in the center of the action. *This feature requires an FW update.CINEMA DSP 3DIntegrates a huge database of sound fields from the world's most famous concert halls and music clubs to reproduce the acoustics of a large hall at home.Music EnhancerRestore audio compressed for listening quality equal to the original. High Response Rate Amplifier Responds to rapid fluctuations in input level for precise and stable signal transmission.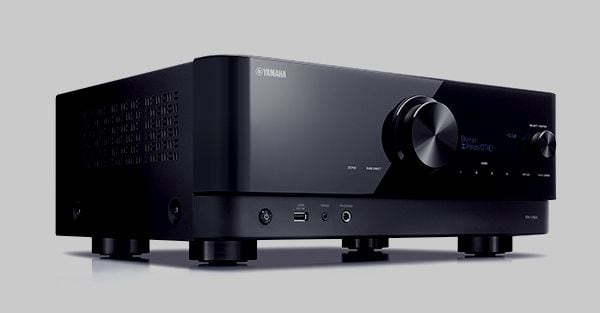 Dolby Atoms® with Height Virtualizer*

For those who don't have a system with in-ceiling speakers or upward-firing speakers, Dolby Atmos with Height Virtualization simulates the "ceiling" Atmos experience using the front channels. Configuring up to five speakers will allow you to reproduce the effects of two ceiling channels, while setting up seven speakers will allow you to simulate the effects of four ceiling speakers.

Feel all dimensions with Dolby Atmos. Set up a 5.1 channel surround system with two additional ceiling speakers or two Dolby Atmos height speakers, to enjoy incredible immersive overhead effects - Dolby Surround upmixer is also available for all other content.

*This feature requires a FW update.
DTS:X®

DTS:X immersive audio places sounds naturally into the environment for multi-dimensional, lifelike audio. Built-in DTS Neural:X™ spatial remapping processing delivers greater immersion and heightened realism for all movies.
CINEMA DSP 3D for Movies, Music and Video Games

This unique Yamaha sound field technology was developed by combining the measurement of real sound fields with digital signal processing. Yamaha has acquired the sound fields of the most famous music clubs and concert halls from around the world, using its great experience in the design of concert halls, PA systems and mixing rooms. Thanks to the digitization of the huge database built into the chip of the devices, it is possible to reproduce the acoustics of those halls right in your home. Immerse yourself in the sonic realism of movies and enjoy the best cinematic audio.
Advantages of a High Response Speed ​​Amplifier

It helps to transmit the signal accurately and is especially suitable for high resolution signals. Typically, high slew rate amplifiers can cause unstable signal transmissions. The new circuit designed by Yamaha stabilizes the signal transmission with high speed response.
Compressed Music Enhancer

In compressed digital music such as MP3, the frequency response is reduced. Yamaha Compressed Music Enhancer technology uses sophisticated digital signal processing which, thanks to lost frequency reconstruction algorithms, allows you to listen to music with the original quality.
MOVIES AND VIDEO GAMES TO THE MAXIMUM
HDR10+*

HDR10+ processes the dynamic range (the ratio of light to dark) of video content scene-by-scene (or even frame-by-frame) using metadata that informs about the brightness and black level characteristics of the scene, in order to preserve detail more significant. This allows screens to reproduce images that are more realistic and faithful to the director's intentions.

*This feature requires a FW update.
8K/60Hz, 4K/120Hz*

Support for 8K/4K resolutions and high scan rate solutions with the simple upgrade of a cable for easy integration into the HDMI ecosystem. 8K ensures a super immersive viewing experience with twice the vertical and horizontal resolution of 4K and 4 times the number of pixels; combined with the 60Hz cadence it allows for smooth and detailed viewing of action-packed content. 4K/120Hz enables ultra-fast UHD images to be sharp and incredibly detailed; a significant step forward for sports, action movies, high-performance video games and virtual reality.

*This feature requires a FW update.
Functions dedicated to Gaming (ALLM,VRR,QMS,QFT)*

Advanced gaming and media features ensure a superior level of motion quality and seamless transitions for games, movies and videos. Included are: Auto Low Latency Mode (ALLM) which automatically configures the ideal level of latency for smooth playback and interaction, free from lag and interruptions. Variable Refresh Rate (VRR) reduces or eliminates lag, stutter and frame tearing for smoother, more detailed gameplay. Quick Media Switching (QMS) eliminates the waiting with black screen that appears before starting a movie and video content. Quick Frame Transnport (QFT) reduces latency for smoother, lag-free gaming sessions as well as real-time interactive virtual reality.

*This feature requires a FW update.
EASY TO SET UP, EASY TO USE
AV Setup Guide App for First Time Setup

No worries, no fuss. Using this special app, you get expert help setting up your AV receiver and source devices. It will also guide you through further configurations, such as speaker, TV and source connections, as well as assigning amplifiers.
Yamaha AV Receiver Setup App
AV SETUP GUIDE is a connection assistance application between the AV receiver and sources and a setup guide for the AV receiver. The app helps with various setups, including speaker, TV, source connections, and assignment of the power amplifier. Pictures of the system and the AV receiver allow you to easily understand how to make the connections between the various devices. To further facilitate the process, the application's configuration parameters are automatically transferred to the network AV receiver.
Ease of Use thanks to the MusicCast App

The MusicCast CONTROLLER app for your smartphone or tablet lets you control the receiver and change its settings quickly and easily. You can use a single Controller app to remote control all MusicCast compatible devices and all their multi-room audio features.
Control all devices with a single App
With simple taps of the beautiful app, you will manage the music and all the audio devices in your home. A wide range of functions are available such as "Link" which allows you to play the same piece of music simultaneously in different rooms or the possibility to personalize the room photo with your own images. Maximum enjoyment with your music.


Voice Control (Alexa, Google Assistant)

Touch or voice control - the choice is yours. Intuitive control of a MusicCast product or an entire home ecosystem thanks to Alexa or Google Assistant. You will feel the house come to life.

*Availability of Amazon Alexa and Google Assistant voice control varies by region.

*A third-party device is required to issue voice commands.
YPAO™RSC/Multi-Point

YPAO (Yamaha Parametric room Acoustic Optimizer) analyzes the acoustics of the room and your system, then fine-tunes various audio parameters to reproduce the best sound for your room. Simply place the supplied microphone at your listening point, activate the YPAO function, and the system will automatically calibrate for optimum performance in your home theater environment.
Rear Wireless Speakers

Pair this AV receiver with MusicCast 50 or MusicCast 20 wireless speakers and enjoy the convenience of setting up a home theater system with wireless surround sound. Plus, you'll enjoy incredible sonic realism with a simple and clean setup. Easily transform your living room into an entertainment space where you can enjoy movies and music to the fullest.
Remarkable and Powerful Design Concept

Yamaha's streamlined, streamlined bodywork instantly conveys the ambition for Total Home Control. The iconic, refined style aims for performance and ease of use. A harmony that combines elegance, functionality and construction quality.
SCENE Buttons for Setting Songs and Radio Stations

There are four SCENE buttons. You can set them for different inputs as well as sound field programs, Music Enhancer, HDMI output and more. Inputs can be associated with specific sources, such as an FM or web radio station, a streaming service channel, a USB device, or a song on a PC or NAS (network). Once the buttons are set up, simply press one on the main unit or remote control to turn on the receiver and listen to your desired music. The buttons can be reset at any time.
OTHER
Multi-room audio – MusicCast

Share the music you love throughout your home - regardless of format. Whether it's your favorite vinyl, AirPlay®, Bluetooth®, streaming music services*, or even TV audio, MusicCast has it all covered.

Additionally, all MusicCast products were designed and built with audio quality in mind. High resolution formats such as Apple Lossless (ALAC) up to 96kHz, WAV, FLAC and AIFF up to 384kHz are supported.

* Availability of music services varies by region.
AirPlay 2

Hey Siri. Play music in the kitchen and living room.

AirPlay 2 lets you stream Apple Music and other streaming services to multiple MusicCast devices in your home. You can control everything from your iPhone or iPad, pair a HomePod or simply ask Siri for assistance by voice.
Streaming Services

Discover all the music thanks to the integration of streaming music services*. Synchronizing your playlists and favorite songs from your smartphone or computer to the AV receiver makes it easier than ever to listen to your favorite tunes or discover new music.

*Availability of music services varies by region.
eARC extension

Make the most of 4K content. Enhanced Audio Return Channel (better known as eARC) is the next generation ARC - available on Yamaha receivers and amplifiers.

eARC transmits high-resolution multi-channel audio formats such as Dolby® TrueHD and DTS-HD® via HDMI, to offer the most sensational surround listening experience and put you right in the middle of your favorite movies and moments.
Zone2
With speaker connectors supporting Zone2 functionality, this system can stream the same (or even different) AV content playing in the main room to another room. For example, if you have speakers installed in your bedroom or kitchen, you can reproduce the same content in this room as in the main room.
Phono
This AV receiver has phono inputs. Plug in a turntable and enjoy your entire vinyl collection.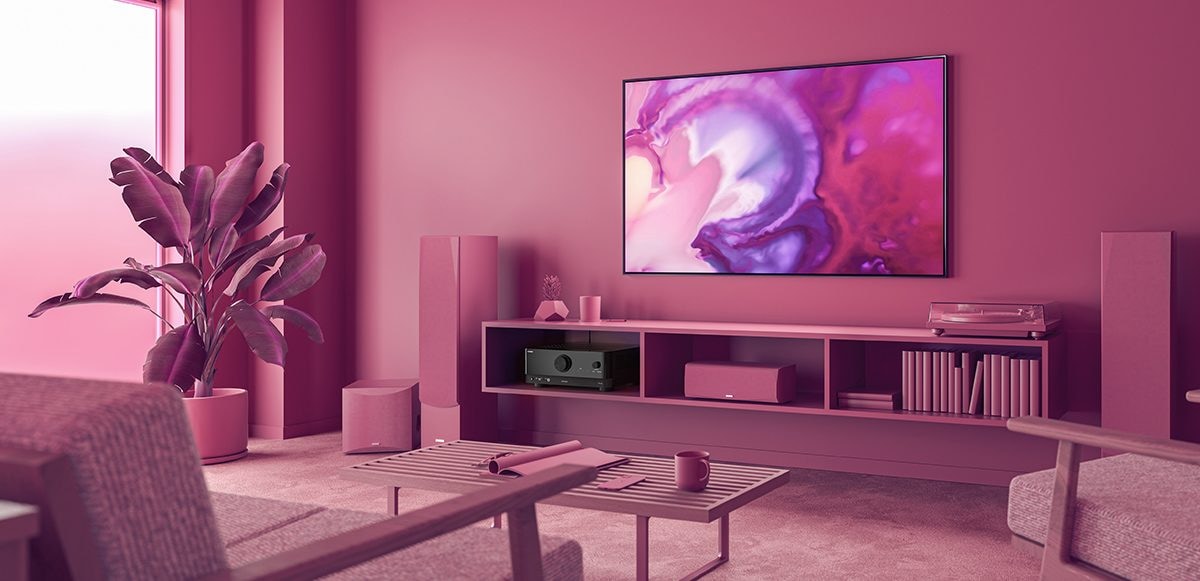 7ch

Rated Output Power

(20Hz-20kHz, 2ch driven)

Zones

Zone2

4K/120Hz, HDR10+

(via future updates)

●

Dolby Atmos w/Height Virtualizer

●

(via future updates)

-

Wireless Rear Speaker Capability

●

●

(RSC/Multi point)








V6A - 7.2ch AV Receiver with Cinema DSP 3D, 7-in/1-out HDMI™, wireless surround.
7.2 Channel powerful surround sound with Zone2

Wi-Fi, Bluetooth®, AirPlay 2, Spotify Connect and MusicCast multi-room audio

Dolby Atmos® with height virtualization via FW Update

HDMI™ 7 in/1 out, 8K/60Hz, 4K/120Hz

Dedicated gaming function(ALLM,VRR,QMS,QFT) via FW update

Voice control with Alexa and Google Assistant devices. *Availability varies by region

MusicCast Surround capable - add MusicCast 20 or MusicCast 50 speakers to create wireless surround sound

Sound optimization YPAO™ Reflected Sound Control (RSC)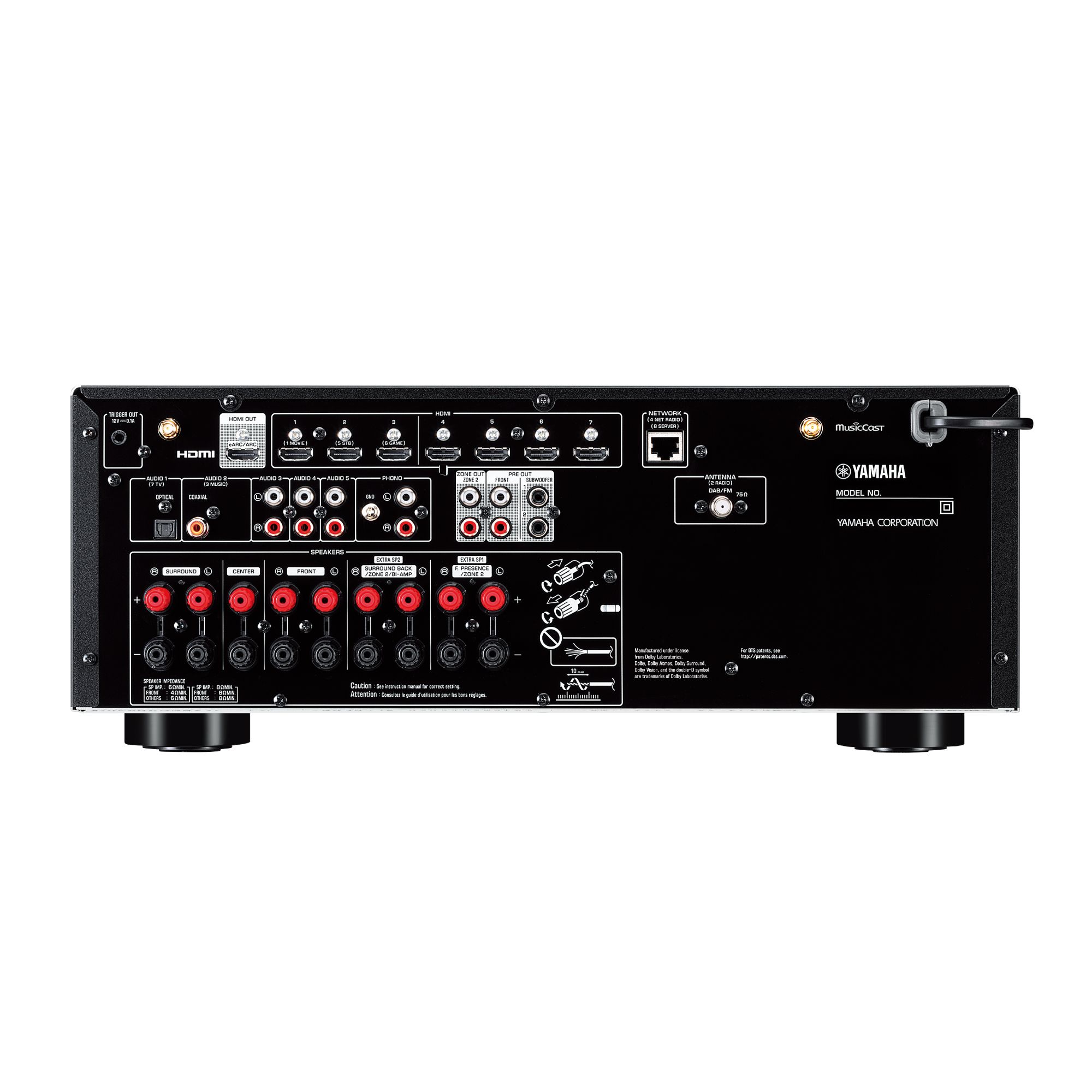 METODI DI PAGAMENTO
Mettiamo diversi metodi di pagamento a disposizione della nostra clientela, per maggiori informazioni consulta l'informativa disponibile sul nostro sito o contatta i nostri operatori.
---
PAGAMENTI SICURI
I tuoi pagamenti vengono processati in modo sicuro.
Have you recently looked at: