Description Yamaha RS202D
High audio quality, thanks to Yamaha's experience, tradition and technology
Yamaha has a long tradition of 125 years in the production of musical instruments and an excellent reputation also in the field of HiFi components. R-S202D was designed thanks to Yamaha experience and technology. This device is based on the concept of "Natural Sound" for the reproduction of all music faithfully to reality, and has been manufactured with scrupulous attention, from the design of the circuits to the audio reproduction, in order to allow a model " entry level" to reproduce rich, high-quality sound.
High output power* 100W × 2 and circuit design for high sound quality
The R-S202D, with a high power 100W* × 2 high drive that is above its class, features sound quality that shortens the length of signal paths, thus optimizing circuit layouts. Placing the transformer close to the amplifier circuits can reduce signal losses while improving peak power capability and enabling high output levels. Signal ground and ground have a connection point, eliminating mutual interference and achieving a better signal-to-noise ratio. The result is a full, clear and open sound. * 8 ohms, 40Hz - 20kHz, 0.2% THD
* 8 ohms, 40Hz - 20kHz, 0.2% THD
Bluetooth® compatibility for wireless music streaming
The R-S202D is equipped with Bluetooth® compatibility functions that allow you to wirelessly stream music from smartphones and other devices. It is possible to use the telephone display to select songs from the library and listen to them with the power and sound quality of the speakers.
DAB and DAB+ are digital audio transmission formats that offer a wide selection of radio stations with top-notch sound quality. Also available is the automatic selection of radio stations with a list of stations to choose from and the display of information such as the station name. Up to 40 DAB/DAB+ stations can be programmed.
Simple and Sophisticated Design
Simple and refined design The R-S202D model features a simple but refined design that characterizes Yamaha HiFi components. The slim, elegant finish matches your other HiFi components beautifully. The volume buttons and knobs best express the simplicity of the design and ease of use.
Selector and terminals for two pairs of speakers
Thanks to the 4 terminals this tuner is suitable for two pairs of speakers. The selector allows you to easily select the pair of speakers (A or B) or to make them play both (A+B).
Energy saving
An energy control function automatically turns off the power (going to standby mode) when the receiver is not used for an extended period. The function can be programmed to activate after 2, 4, 8 or 12 hours or switch off. In addition, the power consumption during standby mode is only 0.5W, thus realizing efficient energy saving.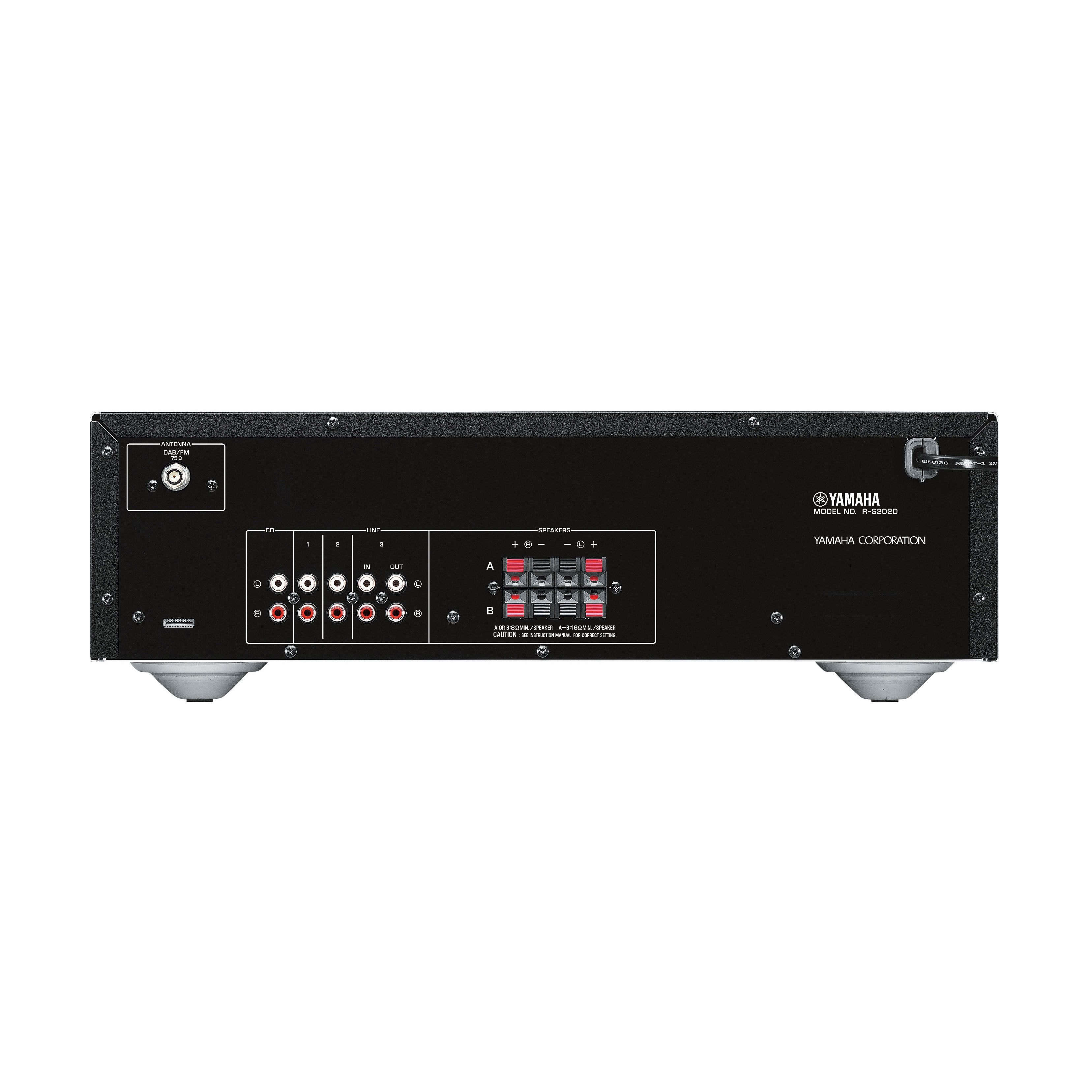 Technical specifications

Bluetooth

Yes (SBC / AAC)

Maximum Power Output (4 ohms, 1kHz, 0.7% THD, for Europe)

115W + 115W

Maximum Output Power (8 ohms, 1 kHz, 10% THD)

140W + 140W

High dynamic power/channel (8/6/4/2 ohms)

125W/150W/165W/180W

Frequency response

10Hz - 100kHz (0 ± 0.5dB / 0 ± 3.0dB)

Total Harmonic Distortion (20Hz-20kHz)

0.2%

Signal to Noise Ratio (CD)

100dB (S: 500mV)

Input Sensitivity/Impedance (CD)

500mV / 47k ohms

FM signal-to-noise ratio (mono/stereo)

72dB / 70dB

Energy absorption in stand-by

0.5W

Dimensions (W x H x D mm)

435 x 141 x 322mm; 17-1/8" x 5-1/2" x 12-5/8"

Weight

6.7kg; 14.8 lbs.

Specifications

FM 50dB Quieting Sensitivity (IHF, 1kHz, 100% Mod., Mono)

3 μV (20.8 dBf)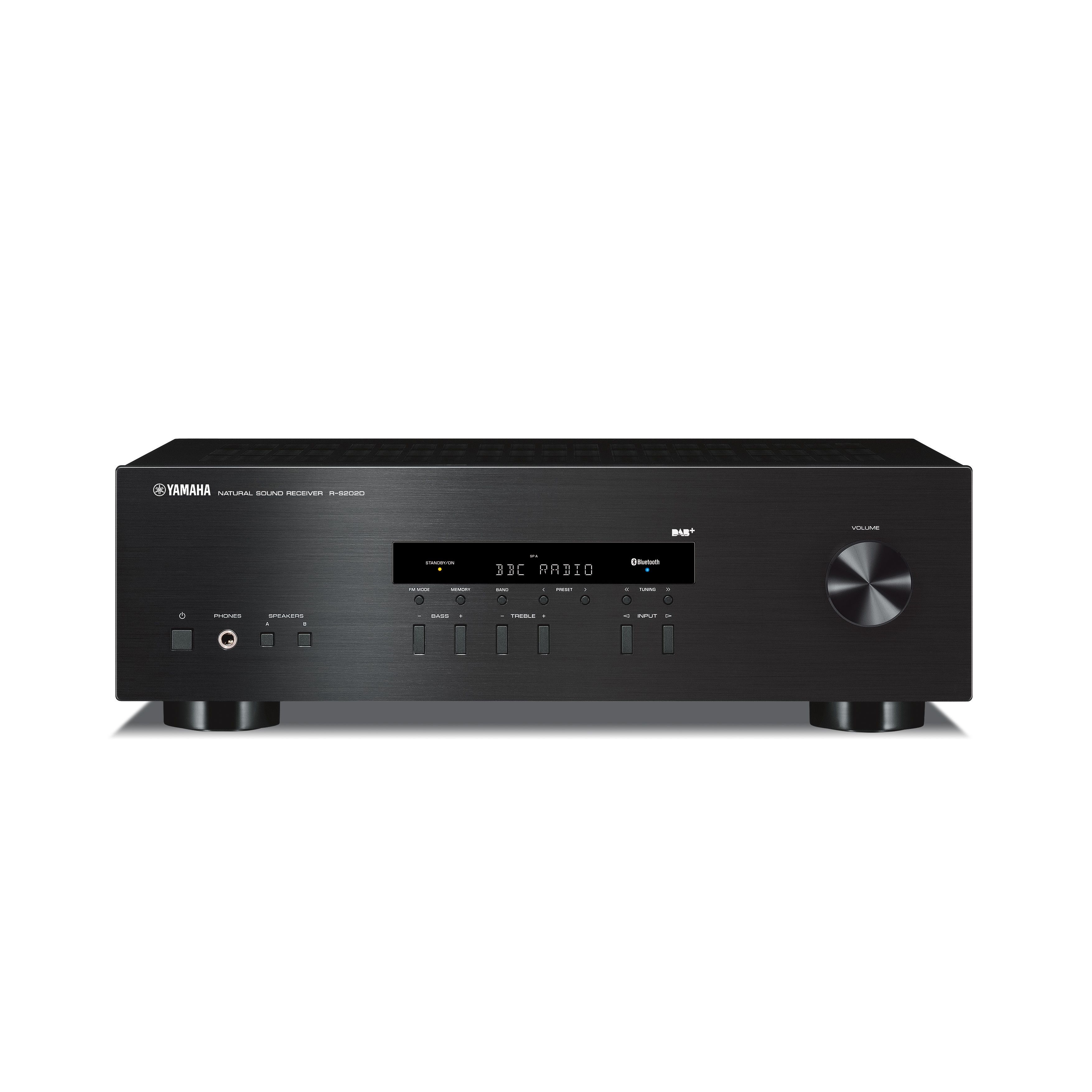 METODI DI PAGAMENTO
Mettiamo diversi metodi di pagamento a disposizione della nostra clientela, per maggiori informazioni consulta l'informativa disponibile sul nostro sito o contatta i nostri operatori.
---
PAGAMENTI SICURI
I tuoi pagamenti vengono processati in modo sicuro.
Have you recently looked at: